---

The Tampa Bay Buccaneers lost their last regular season game to the Seattle Seahawks 23-7. A game in which the Bucs never mounted any real offensive threat whatsoever. The Bucs had very little positive they could point towards next year after finishing a dismal 4 - 12 on the season. When asked about the season, Ronde Barber replied "Unacceptable", and Derrick Brooks answered "Embarrassed". Those two words sum up the Bucs' season perfectly. The worst season since 1991..... Seahawks Game Stats....Seahawks Game Highlights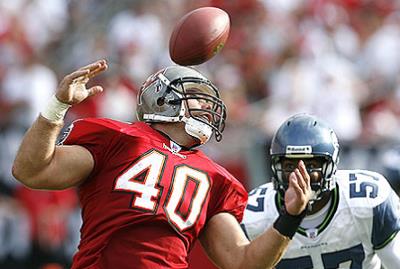 The Bucs Win? Tim Rattay did just enough to insure the Bucs a 22 - 7 victory over the Cleveland Browns. The real story of the game was the defense. The defense was able to hold the Browns to less than 100 yards both rushing and passing. The Bucs' defense accounted for 4 interceptions in the game, 2 by Jermaine Phillips and 1 by Phillip Buchanon. Derrick Brooks also had an interception which he returned 21 yards for a touchdown. Who's your favorite player? "Mr. Derrick Brooks!" The Bucs end the year this Sunday at home as they take on the Seattle Seahawks..... Browns Game Stats....Browns Game Highlights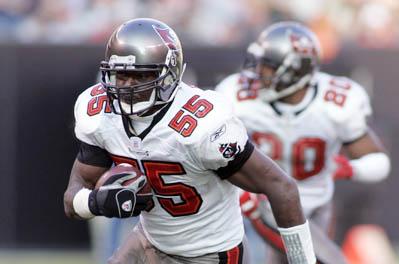 Rattay adds spark to offense leading the Bucs to three 4th quarter touchdowns helping to send the game into overtime. Mike Alstott looked like the A-train of old scoring on a 14 yard run with time running out in the 3rd quarter. The defense was flying to the ball and played much better in the second half and overtime. The Bucs finally fell to the Bears late in overtime on a field goal 31 to 34. This week the Bucs travel to Cleveland to play the Browns. Let's see if the Bucs' scoring explosion continues..... Bears Game Stats....Bears Game Highlights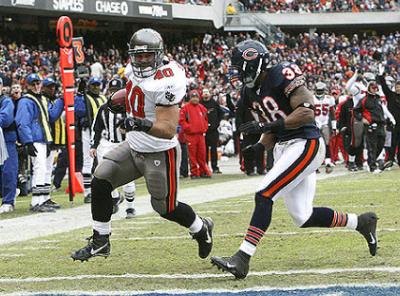 The Bucs are on pace to have one of the worst seasons in Bucs' history and one of the worst offenses ever. The Bucs have only managed 3 field goals in the last 2 games. The Bucs with their many dropped passes lost to the Steelers 20 - 3. They followed up that performance with a 17 to 6 beating by their division foe, Atlanta Falcons. Tim Rattay was put in for the last drive and produced zero points as well. Have the Bucs mailed in the season? Gruden says no, but the proof is on the field..... Steelers Game Stats....Steelers Game Highlights Falcons Game Stats....Falcons Game Highlights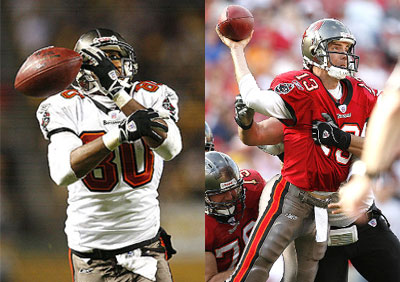 The Bucs started out the week reestablishing the running game and with a spark from FB Mike Alstott defeated the Washington Redskins 20 to 17. RB Cadillac Williams also had a big day rushing for 122 yards on 27 carries. After only 3 days rest, the Bucs traveled to Dallas to take on the Cowboys on Thanksgiving. The Bucs seemed to start where they left off the last game with an impressive opening drive capped off by a Mike Alstott 1 yard touchdown run. It was all down hill after that as the Bucs seemed to run out of gas losing to the Dallas Cowboys 38 to 10..... Redskins Game Stats....Redskins Game Highlights Cowboys Game Stats....Cowboys Game Highlights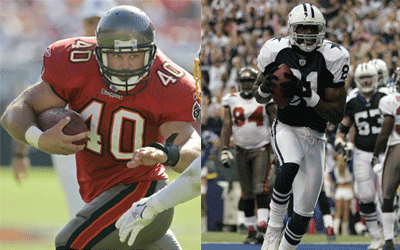 After getting off to a fast start, the Bucs lost to the Panthers, 24-10, dropping their first prime-time game in two years due to four costly turnovers and a bit too much Steve Smith. The Bucs (2-7) have lost three straight and rank 30th among 32 teams in total offense. The running game has been virtually nonexistent and the passing attack has suffered because of a lack of big plays. The Bucs only have 5 day to get ready for the Washington Redskins if they hope to stop this 3 game losing streak....... Game Stats....Game Highlights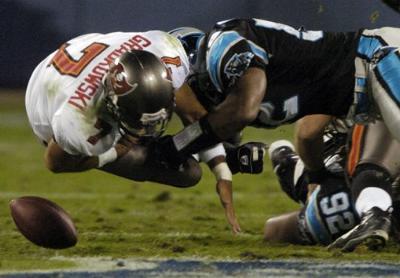 The New Orleans Saints beat the Bucs for the second time this year 31 - 14. The Bucs' defense played well against the run, but was unable to stop QB Drew Brees and the Saints' passing attack. In particular, WR Marques Colton, who had 123 yards receiving and 1 touchdown. Colton is making a strong run at rookie of the year honors. The Bucs' offense for the second game in a row was non existent. The Bucs play next on Monday Night Football against division foes the Carolina Panthers....... Game Stats....Game Highlights




In what surely was one of the windiest games I ever saw, the Giants defeated the Bucs 17 - 3. The Giants relied on good field position and a costly turnover by Cadillac Williams to secure a 14 point lead at halftime. The injured Giants' defense was able to do just enough to hold on and win in the second half. The Bucs' inability to establish any type of running game and the several dropped passes by receivers contributed to the loss. This weekend the Saints come marching into Raymond James and the Bucs better be ready...... Game Stats....Game Highlights....Barbar Postgame....Gradkowski Postgame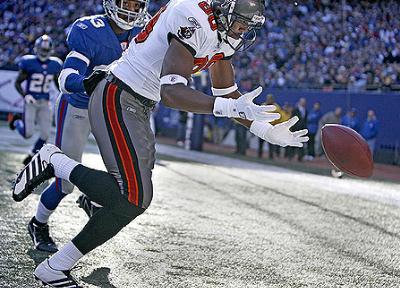 The Bucs defense did what it always does and feasted on the Eagles. No other defensive player was bigger than Ronde Barber recording 2 interceptions both of which he returned for touchdowns. Eagles quarterback Donovan McNabb must see Ronde in his nightmares when he sleeps. The Bucs almost let the game get away when the Eagles took a 1 point lead with 33 seconds left in the game. After a good return from Michael Pittman, the Bucs started on their 36 yard line. The Offense was only able to gain 20 yards setting Matt Bryant up for what seemed an improbable 62 yard field goal. With time running out Bryant nailed the 62 yard field goal to give the Bucs a 23 to 21 victory over the Eagles..... Game Stats....Game Highlights....Gruden Postgame....Gradkowski Postgame....Bryant Postgame




The Bucs Win! The Bucs Win! For the first time this season the Bucs have won a game beating the Cincinnati Bengal's 14 to 13 in a hard fought contest. Rookie quarterback, Bruce Gradkowski looked good for the second week in a row and should only gain more confidence after this win. We also saw the reemergence of WR Michael Clayton including a spectacular catch late in the fourth quarter to win the game. The Bucs' defense looked better; however, they still need to get better at taking the ball away. Next week the Eagles come to town and the Bucs will be ready..... GAME STATS.....GAME HIGHLIGHTS.....CLAYTON TD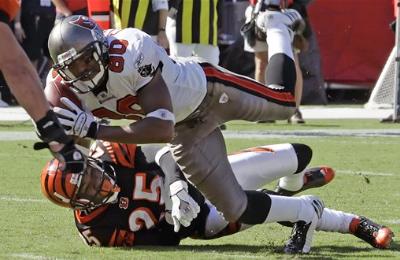 The Bucs lose a close one to the Saints 24 - 21 late in the fourth quarter on a Reggie Bush punt return. The youth movement is now in full swing. Rookie quarterback, Bruce Gradkowski, looked very good for his first start and may be the glimmer of light the Bucs have been looking for. The Bucs' defense has to step up and start making big plays if the Bucs are going to turn this season around. Next on the schedule for the Bucs are Chad Johnson and the high Powered Cincinnati offense....
GAME STATS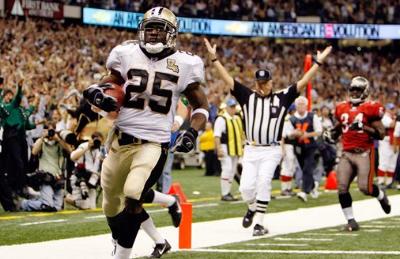 The Panthers defeated the Tampa Bay Buccaneers Sunday at Raymond James Stadium, 26-24. The Bucs battled back from a 17-0 deficit to take the lead twice in the second half, but the Bucs' defense couldn't hold the lead as the Panthers kicked a 46-yard field goal with two seconds remaining in the contest. Quarterback Chris Simms was lost for the season due to a ruptured spleen suffered during the game. The Bucs will have to turn to rookie Bruce Gradkowski, who has been named the starting quarterback. They have two weeks to get ready for the Saints and the bye week couldn't have come at a better time....
GAME STATS
Warrick Dunn rushed for 134 yards and Michael Vick ran for 127 yards for a Falcons' team record of 306 rushing yards in one game. The Falcons pounded the Buccaneers 14 to 3 in a game where the Bucs were beaten in every aspect of the game. For the second week in a row, the Bucs' offense looked absolutely dreadful. Let the quarter back controversy begin. Gruden must get the offense going. Three points in two games just won't cut it....
GAME STATS

The Bucs lay an egg against the Ravens losing 27 - 0 before a sellout crowd at Raymond James last Sunday. Jon Gruden was held scoreless and the Bucs were outplayed in every aspect of the game. The Bucs can't wait to play the Falcons and put the last game behind them. The Falcon game should be a good matchup for the Bucs. They always play well against Michael Vick. This weekend should be no different.....
GAME STATS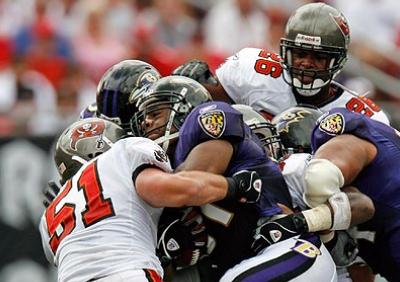 They estimated that 32,000 Tampa Bay Buccaneer fans attended the event. Overall the whole event ran rather smoothly. Jon Gruden drew the biggest cheers as he spoke of his team's upcoming defense of its NFC South title.....
PHOTOS

1st Round

2nd Round

3rd Round

4th Round

5th Round

6th Round

B. Gradkowski

Quarterback

Toledo

6th Round

7th Round

7th Round

Justin Phinisee

Cornerback

Oregon

7th Round
Created and maintained by Robert Cameron
Contact me at
chuskers@tampabay.rr.com
Cheerleader
of the Week
" Crystal "
Tampa Bay Buccaneers


2006 Schedule
Pre-Season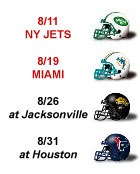 Regular Season