The Huskers lose to the Colorado Buffaloes 26 to 20 ending any hope the Huskers may have had of salvaging their season. This is the Huskers' first losing season in 43 years and snapped their NCAA-record streak of consecutive bowl appearances at 35. Most Husker fans were prepared for the team to struggle learning the new offense, it was the defensive woes that had shocked many fans. The future looks bright starting with the 2005 recruiting class, but the Huskers can't afford another season with a defense that consistently under performs...... GAME RESULTS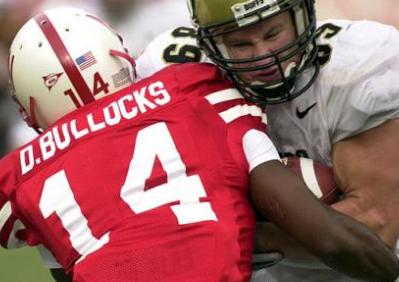 Huskers' defense never seemed to pickup Colgrose's new defensive scheme.



The Huskers lose their fourth straight road game to the Oklahoma Sooners 30 to 3. The Blackshirts were no match for Jason White and the Sooners' offense. Cory Ross was the only bright spot for the Huskers, rushing for 136 yards and collecting 29 yards receiving. The Huskers' next game is at home on November 26th against the Colorado Buffaloes. The Huskers need a win over Colorado to become bowl eligible and keep their consecutive bowl streak alive..... GAME RESULTS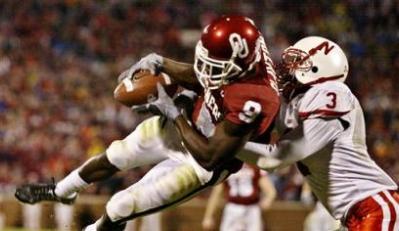 Huskers' defense is no match for the Sooners' potent passing attack.



The Huskers lose their third straight road game to the Iowa State Cyclones 27 to 34. The Blackshirts gave up big plays in the passing game including a 77 yard pass play late in the game to a Cyclone receiver that was left uncovered. The Huskers special teams also played poor leaving 7 points on the field not being able to convert on a 27 and 34 yard field goal and having an extra point blocked. All hopes of winning the Big 12 North could be put to rest next weekend as the Huskers travel to Norman to play the Sooners.
..... GAME RESULTS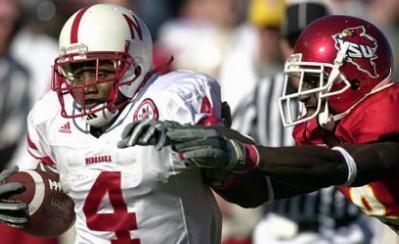 RB Cory Ross had another solid outing rushing 19 times for 128 yards and a touchdown..



The Blackshirts came up big at home holding the Missouri Tigers to a field goal. RB Cory Ross was the Huskers' main source of offense, rushing for 194 yards and 2 touchdowns. QB Joe Dailey is still struggling with the west coast offense and doesn't seem to be improving. The Huskers 24 to 3 victory over the Tigers put the Huskers in first place in the north division of the Big Twelve. ...... GAME RESULTS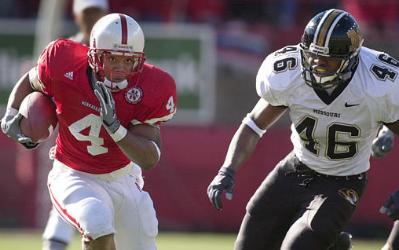 RB Cory Ross' 86 yard touchdown run in the fourth quarter secured a 24 to 3 victory for the Huskers.



Joe Dailey only completed 3 passes this Saturday as the Huskers lost to the Wildcats 45 to 21. Kevin Cosgrove and the Blackshirts were unable to come up with an answer for Wildcat RB Allen Webb who rushed for 271 yards and 4 touchdowns. After the loss this Saturday, Bill Callahan took total responsibility for the team's performance. Is Callahan trying to deflect criticism away from Cosgrove, I think so. ...... GAME RESULTS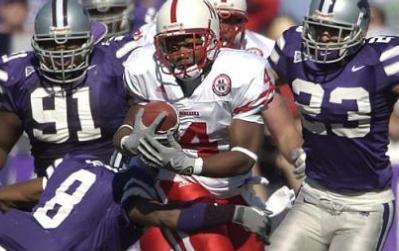 RB Cory Ross' 63 yard gain in the first quarter was 1 of only a few highlights for the Huskers as they lost to Kansas State 45 to 21.



Joe Dailey had a record setting day passing for a school record 342 yards. Dailey also connected on 5 touchdown passes and zero turnovers leading the Huskers to a 59 to 27 win over Baylor. The Blackshirts gave up an alarming 400 yards and 27 points to the nation's number 111th ranked offense. For the second week in a row, Defensive Coordinator Kevin Cosgrove has been unable to produce a potent pass rush to help the Blackshirts shut down the passing attack...... GAME RESULTS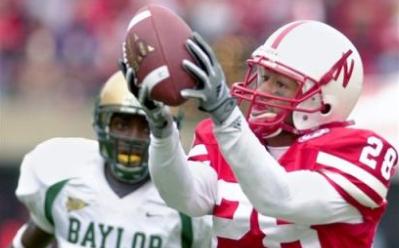 WR Isaiah Fluellen made his presence known scoring twice on a 27 and a 45 yard touchdown reception.



Nobody said that the West Coat Offense would succeed over night nor did the Husker faithful think that the Husher Defense would give up 70 points in one game. Coach Callahan has his work cut out for him trying to rebound from the worst lost in Husker history. This wasn't the type of record that Callahan was hoping to achieve in his first year as the head coach. QB Joe Daily still hasn't shown the type of improvement that is needed to run the West Coast Offense..... GAME RESULTS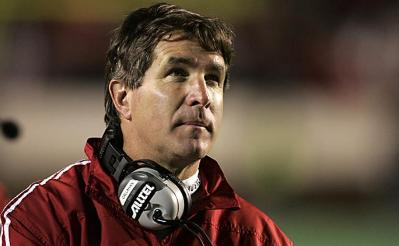 Callahan knew that there would be bumps in the road but a 70 to 10 loss to Texas Tech is a major pothole.



The Huskers defense dominated the game for the second week in a row holding the Jayhawks to only 2 field goals. Daily struggled once again, throwing 3 interceptions and mishandling a snap, which led to a safety. RB Cory Ross stole the show, rushing for over a hundred yards and a touchdown, while also catching a pass for a second score..... GAME RESULTS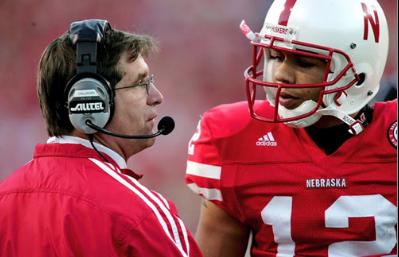 Daily still struggles to catch on to the West Coast Offense.



The Huskers defense dominated the game early forcing the Panthers to turn the ball over 4 times in the first half on the way to a 24 to 17 victory. Daily's first test on the road received a passing grade as he threw for 142 yards and 1 touchdown and ran for a second score. Daily was also able to cut back on the turnovers only throwing one interception in the game..... GAME RESULTS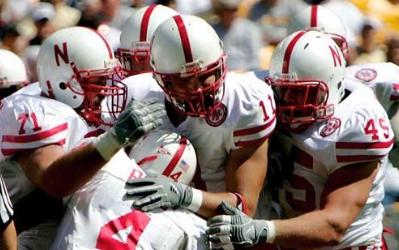 Husker defense shows up big in the first road test of the season.



Turnovers prove to be too costly to overcome as Southern Miss makes the most of them beating the Huskers 21 to 17. Joe Daily accounted for 4 of the 5 Husker turnovers with 3 interceptions and a fumble. Daily has turned the ball over 8 times in 2 games. Callahan must find a way to eliminate some of these turnovers if the Huskers are going to make a run at the Big 12 North....COMPLETE STATS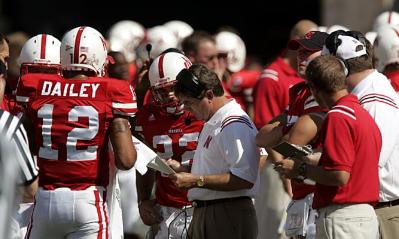 QB Joe Dailey is taking his lumps while he is learning the West Coast Offense.



Joe Dailey's debut at quarterback was good early. Dailey completed 50% of his passes, throwing for 4 touchdowns and running for 2 more. Though he looked better early, Dailey did struggle a little late in the game. He eventually recorded 4 interceptions on his way to a 56 to 17 blowout of Western Illinois. Callahan's new offense seems to be on track.....COMPLETE STATS
QB Joe Dailey was 15 of 30 passing for 218 yards with 4 TD's passing and 2 TD's rushing.



A spring game record crowd of 61,417 showed up for a preview of the Husker's new West Coast offense. The 1st string Red team defeated the 2nd string White team 35 to 6 in a pass dominated game. Callahan is on schedule and the new offense seems to be coming along nicely.....
COMPLETE STATS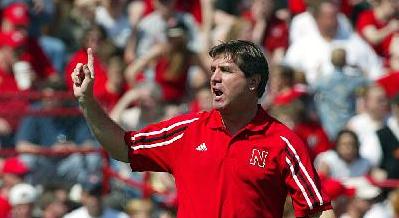 The West Coast offense is off and running in Lincoln.



Bill Callahan was named the next Head Coach at the University of Nebraska. It looks like the West Coast offense will be coming to Lincoln. This is the first coach in 40 years to coach at Nebraska that doesn't have Nebraska ties.
CALLAHAN BIO





2004 Schedule
5 - 6


09/04 NU 56, W. Illinois 17
09/11 NU 17, So. Miss 21
09/18 NU 24, Pittsburgh 17
10/02 NU 14, Kansas 8
10/09 NU 10, Texas Tech 70
10/16 NU 59, Baylor 27
10/23 NU 21, Kansas St. 45
10/30 NU 24, Missouri 3
11/06 NU 27, Iowa St. 34
11/13 NU 3, Oklahoma 30
11/26 NU 20, Colorado 26



Big 12 Standings

Conf. Overall
NORTH W - L W - L
---
Colorado
Iowa St.
Nebraska
Missouri
Kansas St.
Kansas
4 - 4
4 - 4
3 - 5
3 - 5
2 - 6
2 - 6
7 - 4
6 - 5
5 - 6
5 - 6
4 - 7
4 - 7
Conf. Overall
SOUTH W - L W - L
---
Oklahoma
Texas
Texas Tech
Texas A&M
Oklahoma St.
Baylor
8 - 0
7 - 1
5 - 3
5 - 3
4 - 4
1 - 7
11 - 0
10 - 1
7 - 4
7 - 4
7 - 4
3 - 8
Fan Photos
We've got spirt
Tommy Lee ?
Game Video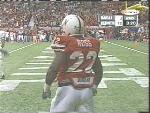 Alamo Bowl
Highlights
"Offense"
Alamo Bowl
Highlights
"Defense"